Despotovac, March 25, 2010.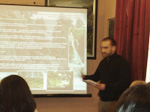 At a time when rapid development in the context of transition generates many factors that negatively impact on protected natural areas, especially mountainous, the need for a clearer definition of attitude of the public sector and finding of the modalities by which to reconcile existing conflicts, has been recognized .

Urged by such need, the Republic Agency for Spatial Planning in cooperation with the Ministry of the Environment and Spatial Planning and the Institute for Nature Protection of Serbia, organized the expert meeting on "Protection of nature and development."... more
---
Novi Sad, March 24, 2010.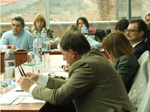 On 24/03/2010 in premises of the Institute third in a series of meetings dedicated to making RSP of APV was held.

Meeting was organized by the General Coordinator - Republic Agency for Spatial Planning, organizational unit for the territory of AP Vojvodina. Beside experts from the Institute meeting was attended by representatives of the Republic Agency for Spatial Planning, representatives of the University of Novi Sad, Faculty of Technical Sciences, Mathematical Faculty, Agricultural Faculty, Philosophical Faculty, Faculty of Technology, the Republical Institute for Development, the Institute for Architecture and the Urban Planning and Institute of Lowland Forestry and Environment.... more
---
Novi Sad, February 11, 2010.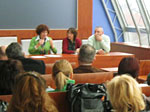 Special Assembly of Vojvodinian association of planners was held on 11/02/2010 in the premises of the Urban and Spatial Planning Institute of Vojvodina. The main reason for convening an special session was to elect a new president of the Association, since in previous period, President of Association was our late fellow architect Mihajlo Rutar.
In addition to the President and Vice President election, all organs of the Association were elected too.... more
---
Displaying articles 283 to 285 of total 286