Novi Knezevac, February 17, 2011.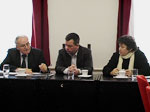 Projekat izrade projektno tehničke dokumentacije za rehabilitaciju i pojačano održavanje putnog pravca Čoka-Đala i dela puta od Novog Kneževca do mesta Rabe, predstavljen je u opštini Novi Kneževac.
On se realizuje u okviru programa prekogranične saradnje između Mađarske i Srbije koji finansira Evropska Unija , a ukupna vrednost projekta je 423.000 evra.... more
---
Novi Sad, January 26, 2011.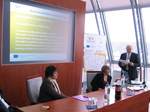 Presentation of IPA Cross-border Co-operation Programme was held in the premises of the Institute. Two projects were presented: Rehabilitation Planning of Bácsalmás-Bajmok Cross-border Connecting Road and Rehabilitation Planning of Tiszasz-Djala Cross-border Connecting Road.
Projects are co-financed by European Union within the IPA Cross-border Co-operation Programme and realisation is supported by Goverment of AP Vojvodina and the Provincial Secretariat of Architecture, Planning and Building.... more
---
January 21, 2011.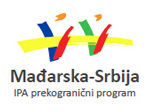 PC INSTITUTE FOR TOWN PLANNING IN VOJVODINA, NOVI SAD intends to award a service contract



... more
---
Displaying articles 16 to 18 of total 21